CNC milling for manifolds is one area where Machine Inc. leverages our experience to provide high quality results, low production costs, and fast delivery. Through a combination of expert design analysis, material selection assistance, and machining expertise, we can provide manifolds for even the most complex applications.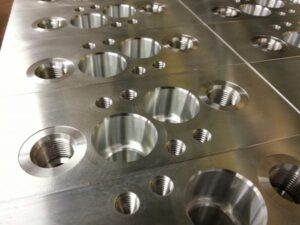 The word manifold means "consisting of many" and manifolds are most frequently thought of as a single circuit block with a number of openings that are all connected. Machine Incorporated produces a wide variety of manifolds for virtually any industry that needs them in both common and exotic plastics and metals. We understand the need for reliable manifolds and approach every project with the goal of providing manifolds that deliver precisely the performance needed for the given function.
We provide high quality results, low production costs, and fast delivery.
Our advanced CNC milling capabilities, full assembly services, and state of the art machining services allow us to provide full-service machining for manifolds intended for a variety of applications. These sometimes include:
Aerospace manifolds
Fuel management manifolds
Manifolds for diagnostic equipment
Manifolds for heat sinks
Manifolds for pressure control valves
Manifolds for pumps
Medical equipment manifolds
Thermal control manifolds for the aerospace industry
Thermal management manifolds
Delivering a full-service solution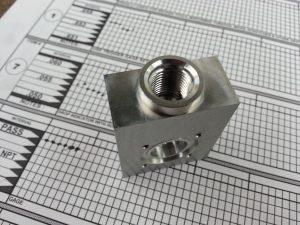 At Machine Inc, we pride ourselves on being able to deliver a full-service solution. Whether that means developing every part of your manifold in-house, coordinating with another supplier, or receiving parts from a number of sources, we can make it happen.
From CNC milling for manifolds to full production and assembly, our customers get the manifolds they need—with the right specifications. Our capabilities allow us to manufacture and provide CNC milling for manifolds in a number of materials. Some of these include:
Aluminum manifolds
CNC milling for plastic manifolds
Manifolds in aircraft alloys
Peek manifolds
PVC machined manifolds
Stainless steel manifolds
Ultem manifolds
Specialized Components
At Machine Incorporated, we have a great deal of experience working with engineers and designers providing manufacturability input on new designs to optimize cost savings when the product moves to the production stage. From prototypes to finished products including connectors, pump and valve components, housings, instruments, and optics. Our unique set-up methods and manufacturability expertise allows us to give you valuable design feedback during this critical step in launching a new design. We are equipped to accept virtually all CAD and Solids files, produce prototypes then follow through to production seamlessly.
Machine Inc. can help you analyze your prototype design possibilities and provide valuable feedback. Feel free to contact us with questions.
At Machine Incorporated, our focus can be boiled down to one thing: quality. That means you can expect not only the highest quality machined manifolds, but a high quality of service as well – meaning faster delivery, lower production costs, and exceptional engineering and design assistance.
Through lean manufacturing and concurrent engineering, we optimize every aspect of the design, engineering, and manufacturing process to maximize throughput and provide a better end product. In our business, staying under budget is essential. That's why we use our expertise to offer design and material selection assistance to avoid wasting money on overdesigned manifolds and parts.
For more on how we can provide the CNC milling and machining for the manifolds you need, don't hesitate to contact us to speak with one of our experts.