Why Machine Incorporated?
Dependability. We deliver machined parts of the highest quality right when you need them.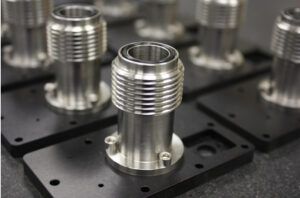 Experience. Since 1981, Machine Incorporated has built a reputation as a dependable source for machined parts of the highest quality. We aim to form steady, long-term client relationships so that we can be closely integrated into your supply chain, gain insight into your schedule and respond to changing product demands quickly and proactively.
Dependability. Delivering machined parts of the highest quality when you need them. Because we utilize a comprehensive production management software we have the capability to continually monitor and adjust production schedules. When we commit to a customer's stringent delivery schedule, 98% of the time we achieve our delivery commitments.
Flexibility. Because all of our employees are cross trained and work in a real-time production management system, that provides data and business intelligence, we can respond to your changing product demands quickly and proactively.
Responsiveness. We continually provide you with data and information about your order. Our Quality Department becomes an extension of your Quality Engineer's specifications and standards.  Each week we go over your Open Order Report to ensure that your up to date on deliveries, purchase orders, rejects, Kanban releases and potential problems.
Cost Savings, Inventory Control. Besides employing Kanban systems, we are one of the few firms in our space to use Ultriva for optimizing and automating our clients' inventory-control processes.  You can reduce your inventory with the assurance that your parts will be there when you need them.
Expertise. We help you improve efficiency and manufacturability by providing expert technical advice (DFM) on component de­sign, manufacturing processes, inventory management and more. Our state of the art software, equipment and adherence to strict manufacturing, verification and documentation standards ensure parts are flawless, are produced on time and meet all your specifications.
Quality. In a machining environment, quality means fewer customer rejects which translates to lower costs, on-time deliveries and increased customer satisfaction. Process improvements also eliminate waste, improve flow and enhance workplace safety, all contributing to the bottom line.
Experience the Machine Inc. difference today. Contact us.